Llanidloes Museum
L.L.A.N.I. Ltd

FaceBook

 Cymraeg  

 franšais  

 espa˝ol  

 Nederlands  

 Deutsch
The Town Hall
Great Oak Street
Llanidloes
SY18 6BN
Telephone: 01686 413777
web: powys.gov.uk
IMPORTANT NOTE - CURRENTLY CLOSED BUT WILL RE-OPEN WITH THE LIBRARY SHORTLY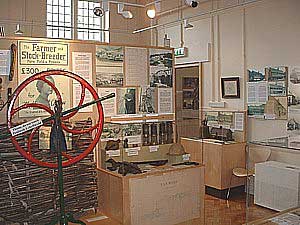 Llanidloes Museum of Local History and Industry was established in 1930 within the town's old Market Hall, a Grade 1 listed, timber market hall and the only example surviving on its original site in Wales. In 1993 it was decided to separate the museum collections from their venue in order to preserve the building itself and to meet the standards of collection care, access and interpretation for the artefacts.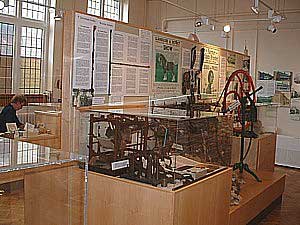 In 1995 the museum re-opened in a new site within the ground floor of the Town Hall. This is a Grade 2 listed building, dating from 1907, situated on the main street and the natural venue for the local museum. In the year 2000, thanks to the generosity of Llanidloes Town Council the museum was able to take over an extra room within the Town Hall thus doubling its size. A grant from the Heritage Lottery Fund and partnership funding from Kite Country and Powys County Council enabled the museum to expand and improve its displays and make a larger proportion of the collections accessible to the visitor. The new, refurbished museum opened on the 30th of May 2001.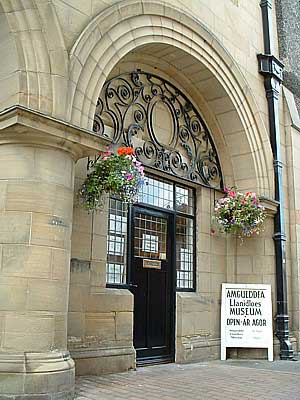 The new museum lay-out is divided into logical sections reflecting the nature and type of the collections. In the entrance hall the visitor will find up-to-date material about other attractions in the area and similar information. The area will also be used for small temporary displays as well as for education purposes.
OPENING TIMES
WINTER:
Tuesday, Thursday, Friday 11.00am - 1.00pm, 2.00pm - 4.00pm
Saturday 11.00am - 2.00pm
SUMMER: June to August
Tuesday, Thursday, Friday 10.30am - 1.00pm, 2.00pm - 4.00pm
Saturday 10.30am - 3.00pm