Sarn Sabrina
L.L.A.N.I. Ltd

FaceBook
See also:   All forthcoming events

 Cymraeg  

 français  

 español  

 Nederlands  

 Deutsch
Sabrina and Semi-Sabrina Walk -
Last event Saturday 28th May 2016 - the 11th Year!

Facebook page for the Event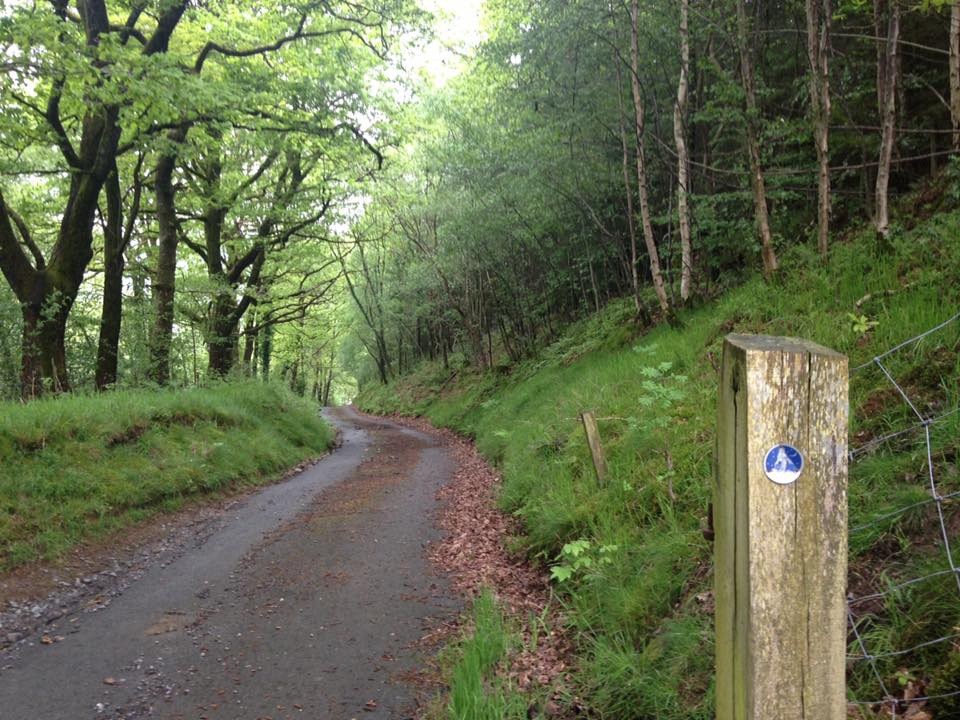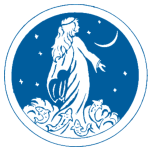 Based on the Celtic myth of Sabrina, a water nymph said to inhabit the waters of the River Severn, we have created a 25 mile circular route called the Sarn Sabrina and a shorter 12 mile route called the Semi-Sabrina.
The Sarn Sabrina Walk is both a one day challenge walking event which held its inaugural walk in 2006, and a trail that can be walked over a number of days for you to savour the beautiful views the route encompasses.
A slightly less challenging route is the shorter 12 mile walk from Llanidloes taking in Glyndwr's Way and the Llyn Clywedog, known as the Semi-Sabrina.
Sabrina's Story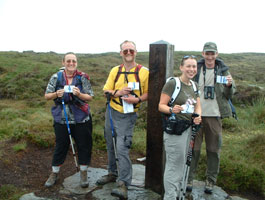 The River Severn, the longest river in the UK, takes its rise nine miles to the west of Llanidloes high up on the slopes of Pumlumon; the highest point in the central range of the Cambrian Mountains. The Roman name for the Severn (the Hafren in Welsh) was Sabrina, and ancient myth tells Sabrina was one of three sisters, all water nymphs, who met on Pen Pumlumon to discuss how they might wend their way to the sea. Each sister took a different route, Ystwyth to the west and Varga (the Wye) away to the south, while Sabrina, who loved the land, set out on a slow meandering course that led her far into the east. The spirit of Sabrina still resides in the sparkling waters of the river and nowhere is her benevolent presence more apparent than here, where she first set forth upon her long journey to the sea.
The Sarn Sabrina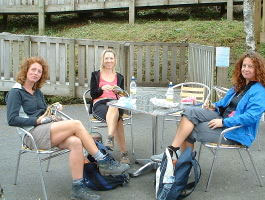 The Sarn Sabrina is a walk of 25miles (approx. 40km) that leads out of Llanidloes following the national trail of Glyndwr's Way. Leading up past the Van Pool, the path opens up extensive views of the Llyn Clywedog and the surrounding countryside, before following the shoreline of the lake to the borders of the Hafren Forest and Cwm Biga Farm. Climbing up through the Forest to the slopes of Pen Pumlumon Arwystli, the trail then visits the source of the Severn at 620m above sea level. Descending through the forest along the Severn Way long distance path, the trail next takes to the watershed of the Severn and the Clywedog, enjoying stunning views of the surrounding countryside before arriving back in Llanidloes.
The Sarn Sabrina and Semi-Sabrina are both way-marked with distinctive discs (above)

Sarn Sabrina Map (PDF file)

Sarn Sabrina Narrative (PDF file)

Semi Sabrina Map (PDF file)

Semi Sabrina Narrative (PDF file)
Comments from last few year's participants include:
"Thoroughly enjoyable." N. Benbow, Tenbury Wells, Worcestershire
"Thank you for a lovely day – we really enjoyed it." S. Williams, Pontolgoch, Caersws
"A wonderful days walking, well organised and I wish you every success for future walks." H. Davies, Llanidloes
We hope to see you there!
For more information on the Sarn Sabrina or the Semi-Sabrina please email sabrinawalk@llanidloes.com
---
Entry Form
2016 Entry Form
REGISTRATION FOR 2016 NOW CLOSED
For all enquiries, email to:
sabrinawalk@llanidloes.com and visit the facebook page
---